Kveldene har blitt kjøligere – og ikke minst mørkere. Med andre ord, en perfekt tid for å kose seg med en god serie, eller film foran TV-en.
Enda da godt at strømmetjenestene byr på et så omfattende, og variert, innhold i september.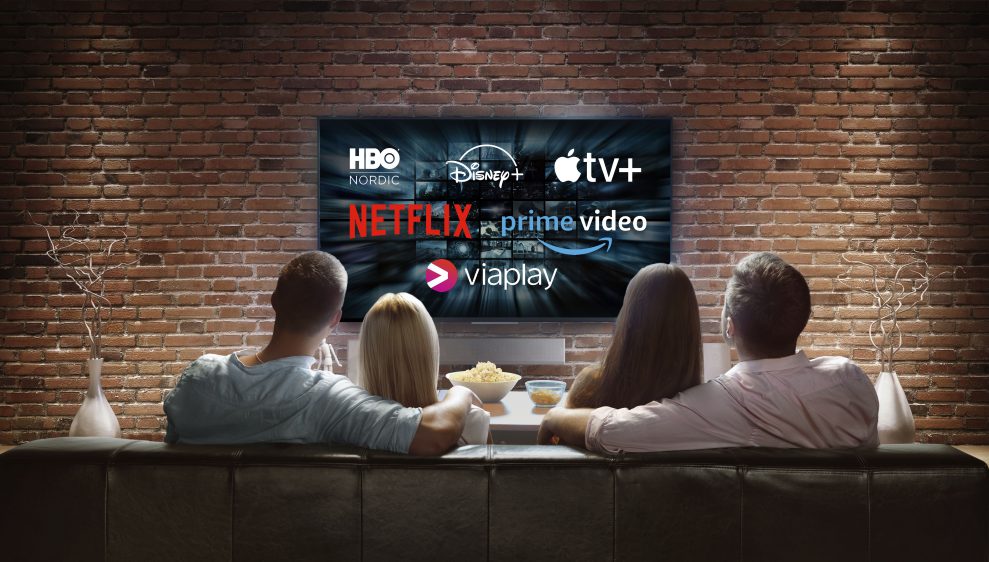 Disney+
Strømmegiganten byr på en rikholdig høstmeny, som du kan lese mer utfyllende om her, og allerede fra september lanseres mange spennende nye serier.
Y: The Last Man. En postapokalyptisk verden der samtlige menn (unntatt én) har «tatt kvelden». Diane Lane er den nye presidenten, for en nasjon bestående kun av det kvinnelige kjønn. Kommer 22. september.
American Horror Stories. Spinoff-serie fra Ryan Murphys American Horror Story. I den nye antologiserien fortelles det en ny skrekkhistorie i hver episode. Premiere den 8. september.
Dug Days er en slags spinoff-serie med hunden til enkemannen i Pixars Up. Premiere i morgen (1/9). Mens du kan se Billie Eilish fremføre hele sitt seneste album, akkompagnert av Los Angeles Philharmonic, i konsertfilmen Happier Than Ever. Tilgjengelig fra den 3. september.
Star Wars Visions. Den spennende, og høyst varierte, animasjonen i Star Wars Visions lover godt. Serien får premiere den 22. september.
Netflix
Den største av dem alle fortsetter med sitt imponerende tempo av originalproduksjoner. To nye nordiske produksjoner lanseres i løpet av måneden.
Den svenske dramafilmen Vinterviken, om innvandrersønnen John-John som faller hodestups for rikmannsdatteren Elisabeth, kommer 8. september, mens den danske krimserien Kastanjemannen slippes i slutten av måneden (29/9).
Gjensyn med de hyperkåte tenåringene i Moordale får vi den 17. september, da slippes sesong 3 av Sex Education.
Enda mer gleder vi oss til sesong 5 av den spanske actionserien La casa de papel. Lanseres på Netflix i dag.
Andre seriehøydepunkter er Jaguar (22/9) og Lucifer (10/9).
Få også med deg filmene Kate (10/9), The Starling (24/9), Daniel Craig i Knives Out (1/9) og, ikke minst, sjokkerende fabelaktige The Lighthouse (8/9).
Prime Video
Amazon kickstarter måneden med en heftig, radikal, nyinnspilling av Cinderella – så definitivt i en moderne innpakning i musikalversjon. Slippes i dag.
Vi ser storveis frem til den franske filmen The Mad Womens Ball (17/9), med fokus på kvinnefiendtlighet og deres sterke vilje. Skuespillerinnen, forfatteren og regissøren Mélanie Laurent (Inglourious Basterds) har regi, samt en av hovedrollene.
Den 10. september har The Voyeurs premiere på Prime Video i Norden. Filmen handler om et ungt nyinnflyttede par i Montreal. Pippa (Sydney Sweeney) og Thomas (Justice Smith) begynner raskt å fatte interesse for naboenes intime privatliv…
Når paret oppdager at naboene er utro mot hverandre vokser nysgjerrigheten etter hvert frem til en besettelse, og ting spinner ut av kontroll.
Prime Video kaller filmen en «erotisk thriller»…
HBO Nordic
Ikke veldig mange store nyheter fra HBO denne måneden, men (mens vi venter på lanseringen av HBO Max) vi vil trekke frem:
Sesong 3 av komiserien What We Do in the Shadows følger tre vampyrer fra Staten Island som har vært romkamerater i hundrevis av år. Hovedrolleinnehaverne er Kayvan Novak, Matt Berry, Natasia Demetriou. Slippes i dag.
Få også med deg milliardærenes lekegrind, i Billions, sesong 5, del II (6/9).
Apple TV+
I september er det langt mellom nylanseringene på Apple TV+, i tillegg til at Ted Lasso, sesong 2 rullere videre, er det kun to nye serier.
Den 17. kan du se sesong 2 av Apples første originalserie, The Morning Show, med Jennifer Aniston, Reese Witherspoon, Billy Crudup og Steve Carell i hovedrollene.
Verdt å ta en titt på er også den nye sci-fi-serien til Jared Harris. Sesong 1 av Foundation har premiere den 24. september.
Paramount+
Nykommeren, som «snart» erstattes av SkyShowtime, slipper en virkelig filmgodbit den 14. september. Da kan du se Emily Blunt og John Krasinski i grøsseroppfølgeren A Quiet Place 2!
Andre høydepunkter får du med 2 x Jeff Daniels i American Rust, sesong 1 (13/9), og i dramaserien The Comey Rule (28/9).
Fans av Liam Neeson bør ikke gå glipp av dramafilmen Ordinary Love, som hadde premiere for to dager siden.
Viaplay
Vår hjemlige strømmetjeneste byr på den nye norske originalserie, Furia, med Pål Sverre Hagen, Ine Marie Wilmann, Henrik Mestad og Trond Espen Seim i hovedrollene.
I serien møter vi Ragna (Wilmann), som jobber på Romsdalens flotteste turiststed, men som lever et mørkt liv på nettet i det skjulte. Til det samme stedet ankommer politimannen Asgeir (Hagen), som sammen med datteren må holde en lav profil, i skjul for den russiske mafiaen. Serien blir beskrevet som «Europas Homeland». Slippes 26. september.
Andre seriehøydepunkter er sesong 1 av dramaserien Søstre (5/9), sesong 1 av den psykologiske thrilleren Close to Me (12/9) samt Leif GW Persson-thrilleren Skjult av snø. I sesong 2 er Robert Gustafsson (Hundreåringen som klatret ut gjennom vinduet og forsvant) tilbake som Cold Case-gruppeleder Peter Wendel. Sesongen dreier seg om Ludvig Larsson (Samuel Fröler), en regional politimester som viser seg å leve et mørkt dobbeltliv.
PS! Har du ikke fått den med deg denne godbiten ennå, så gå for all del ikke glipp av den glimrende svenske ungdomsserien Threesome. Anbefales!
Komplett liste over alle nye titler hos de største strømmetjeneste ser du nedenfor. God strømme-fornøyelse – og nyd siste rest av sommervarmen 😊
Full tilgang til Lyd & Bilde for 49 kr
Prøv i 30 dager og få tilgang til over 6000 tester, alle nyheter, guider og anmeldelser.
Det er ingen bindingstid og du kan si opp når du selv vil.
Ønsker du å bestille magasinet? Klikk her
Allerede abonnent ?
Logg inn