I forbindelse med den årlige "Record Store Day" slapp Bruce Springsteen den 19. april EP-en "American Beauty". Vinylplaten inneholder fire tidligere uutgitte sanger spilt inn i hans hjemmestudio som han igjen trakk frem i lyset i forbindelse med "High Hopes".
"Record Store Day" er en organisasjon som arbeider for å opprettholde og støtte de få gjenværende fysiske platebutikkene som fortsatt eksisterer. I den forbindelse er det blitt tradisjon at artister utgir spesialalbum i et begrenset opplag. Bruce Springsteen har gjort dette to ganger tidligere med "Dream Baby Dream" og "Wrecking Ball". Begge EP-er i et begrenset opplag – og kun på vinyl. Det helt unike med "American Beauty" er at den inneholder kun uutgitte sanger; og etter mange gjennomlyttinger kan vi ikke forstå at 2-3 av dem ikke havnet på "High Hopes" i stedet for flere av albumets svake sanger.
Tittelsporet er en klassisk, intens Springsteen-rocker som minner en del om riffet til "My Lucky Day", mens vi på "Hey Blue Eyes" møter Springsteen på sitt mest følsomme og politiske. "Hurry Up Sundown" vil ikke bare få deg i godt humør, men også få rockefoten til å trampe med!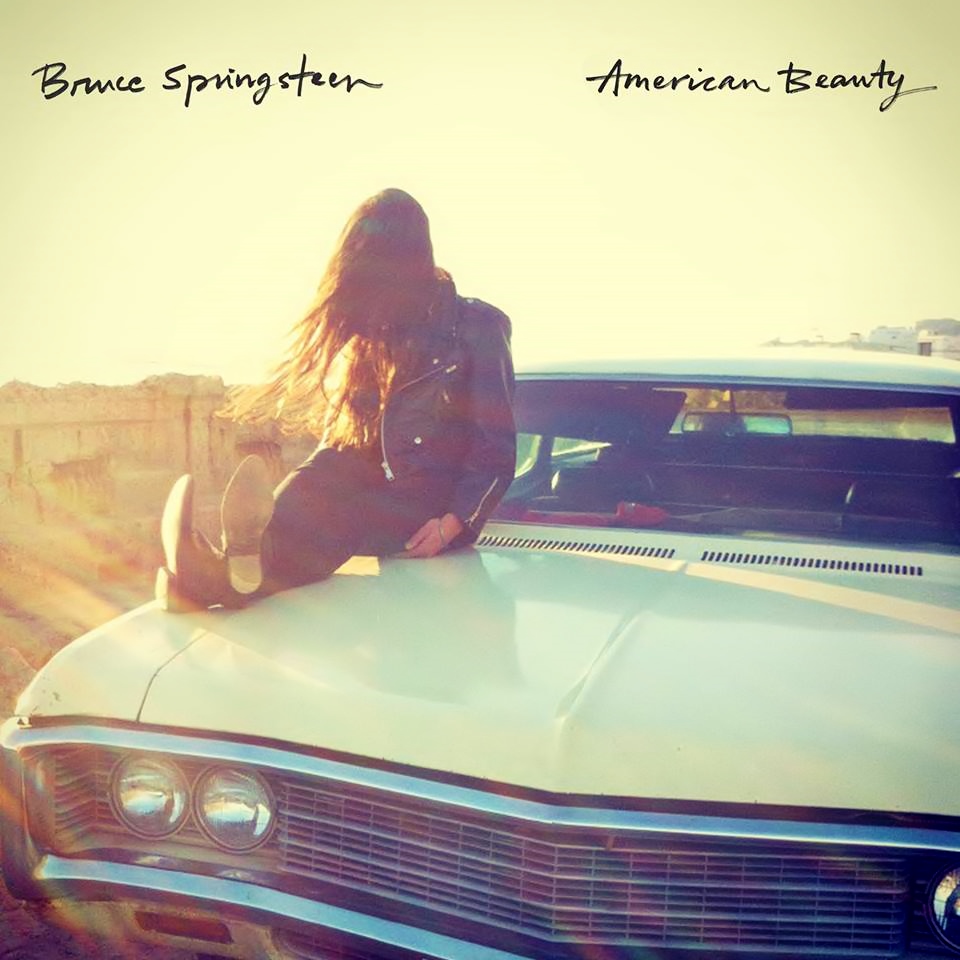 Coveret til The Boss' siste plate. En sjeldenhet at han selv ikke figurere på coveret. 
Med Springsteens egne ord:
"American Beauty is a collection of songs I cut at home. Upon revisiting them for High Hopes I recognized their potential and Ron Aniello and I worked on them until we'd turned them into the music before you. In the song "American Beauty," I get to sing in a part of my range I don't often visit and that along with its 'guitar wall of sound' gives it a little 'exile on E Street' power. "Mary Mary" is a lovely mystery, a small piece of heartbreak poetry that sneaks up on you with its slippery groove, punctuated string section and spectral lyrics. It came closest to making the High Hopes cut. "Hurry Up Sundown" is a fun piece of modern power pop, while "Hey Blue Eyes" rounds out the EP with one of my darkest political songs. Written during the Bush years, it's a metaphor for the house of horrors our government's actions created in the years following the invasion of Iraq. At its center is the repressed sexuality and abuse of power that characterized Abu Ghraib prison. I feel this is a shadow we as a country have yet to emerge from."
Lyd & Bilde er seg selvsagt sitt store samfunnsansvar bevisst, og reiser i morgen over dammen til "Sambandsstatene" for å overvære Springsteens konsert under årets Jazz Fest i New Orleans.
En fyldig reportasje kommer på nettet og i sommerutgaven. Du kan lese om vårt forrige besøk på Jazz Fest (2012) her!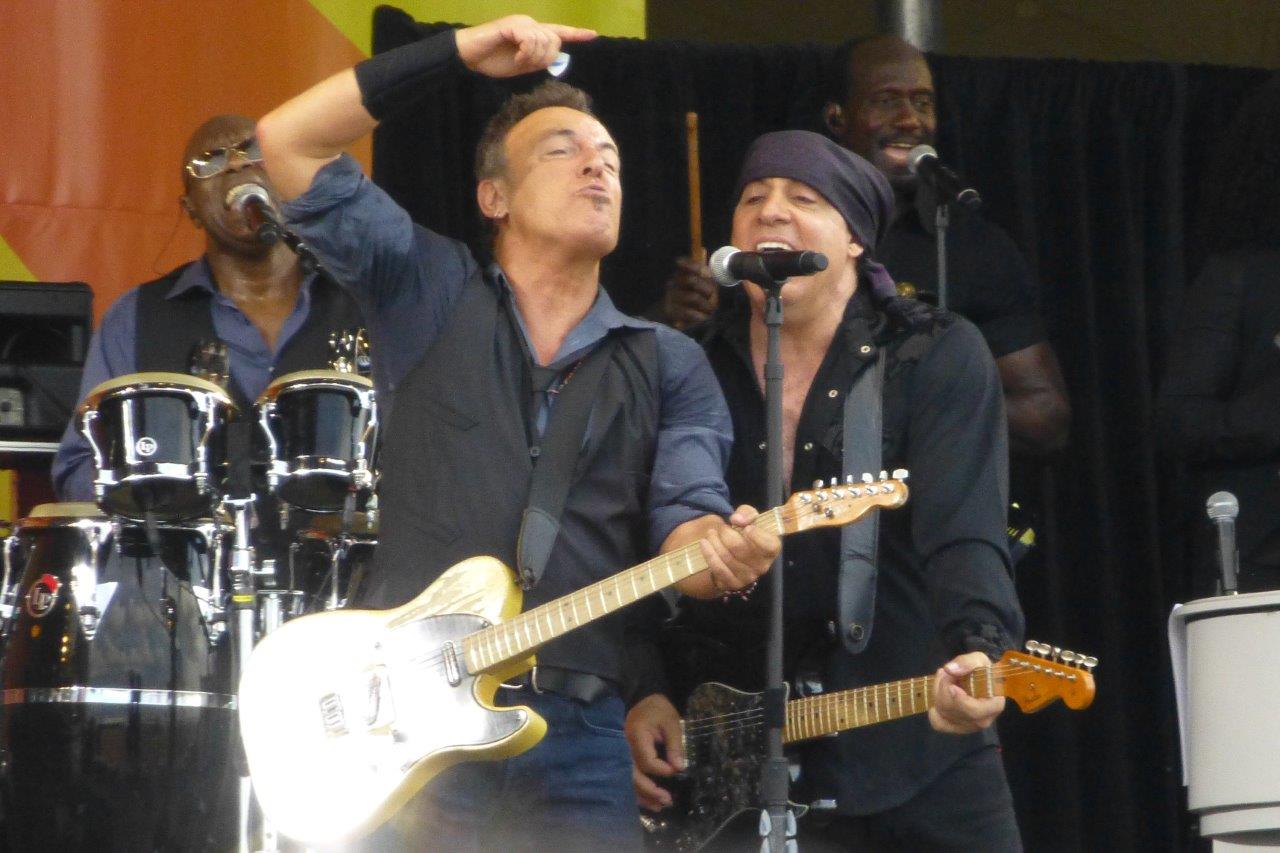 Bruce Springsteen og Little Steven under New Orleans Jazz and Heritage Festival, 2012.
Under Springsteen pågående High Hopes turné, spilte han i Charlotte (North Carolina) inn en video for tittelsporet på den nye platen. Legg merke til at Little Steven er fraværende; han er opptatt i Norge med innspillingen av tredjesesongen av "Lilyhammer" . MEN, fortvil ikke, Tom Morelle ("Rage Against the Machine") er med på turneen – så visst ingen dårlig "erstatter". En turné som startet i Cape Town, Sør-Afrika den 26. januar, før den fortsatte til Australia og New Zealand.
Den siste måneden har Springsteen og hans "The E Street Band" (som nylig ble innlemmet i "Rock & Roll Hall of Fame") spilt på hjemmebane i USA, primært på steder de sjelden besøker, og med en så radikal omstokking og nyskapende setliste hver eneste kveld som vi vel nesten ikke har sett maken til – selv fra The Boss!
Absolutt ingen datoer er så langt annonsert for Europa i sommer/høst, men vi antar at han kommer over dammen til høsten, i tilfellet blir det første gang han ikke besøker Europa i forbindelse med et nytt album siden 1978 med "Darkness on the Edge of Town" (i tillegg til Nebraska (1982) som han overhodet ikke turnerte med).
Du kan se videoen til tittelsporet her:
Les mer om Bruce Springsteen på hans hjemmeside.