Alle vet hvor ergelig det er å stå der, i beit for et stjerneskrujern, når man trenger det som mest. Det har In1 gjort noe med i det nye etuiet som inneholder to skrutekkere, en rett og en stjerne, neglefil, saks, to kulepenner, pinsett og en utrekkbar fot som gjør det mulig å sette mobilen skrått på siden.
Etuiet er et slags multiverktøy for iPhone og passer 5 og 5S. En versjon for 5C er på trappene. Det samme er en for Samsung Galaxy S4.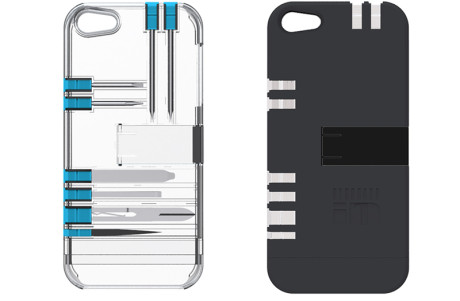 Det slanke etuiet finnes i hvitt, sort og en gjennomsiktig utgave. I tillegg kan man velge blant seks farger på verktøyet inni. In1 sier også at det er godkjent av den amerikanske transporsikkerhetsadministrasjonen, TSA, slik at du ikke risikerer å bli tatt fra etuiet når du reiser med fly.
Etuiet med miniverktøy inni, koster 45 USD, og er tigjengelig nå for iPhone 5 og 5S.