Høyttaleren er ikke helt ny. Gallery G-17 ble introdusert for snart et år siden, men først nå er den klar for butikkhyllene.
Gallery-serien forøvrig, består av en rekke slanke høyttalere fra Klipsch. Alle med den samme typen 90 graders Tractrix diskanthorn, for bedre effektivitet.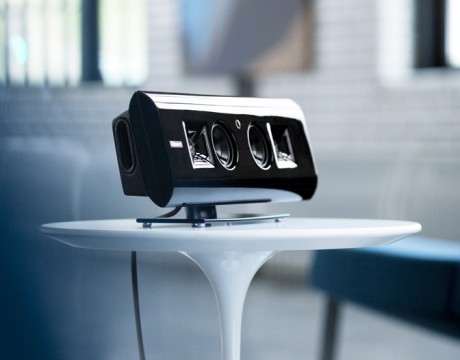 Det samme har G-17, som er en aktiv stereohøyttaler med trådløs AirPlay strømming av musikk rett til høyttalere, fra en iPod touch, iPad eller iPhone.
Alternativt kan man koble iPod-en rett i høyttaleren via en USB-inngang, eller om man ikke bruker iPod/iPhone, via en vanlig 3,5 mm lydinngang.
To 6,35 cm basselementer drevet av 20 w effekt hver, og to 19 mm aluminiumsdiskanter i det karakteristiske Tractrix-hornet drevet av 10 w hver, skal klare å strekke seg over et bredt frekvensområde. Fra 57 til 23.000 hz.
Den 42 cm brede høyttaleren, kan stå på sokkel, eller henges på veggen.