Leicas karbonstativ har utrekkbare ben i tre ledd med åtte lag karbon som gjør det lett, kompakt og samtidig stivt og stabilt. Vekten tipper inn på 1.2 kg uten kulehode, og det tåler en maksvekt på hele 10 kg.
Stativet kan klappes sammen slik at bena skjuler kulehodet og midtsøylen kan fjernes for å gjøre stativet så kompakt som mulig.. Små pigger kan festes på undersiden av føttene slik at det står stødigere på glatt eller ulendt underlag.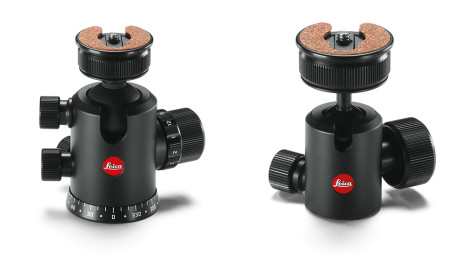 To nye kulehoder – 38 og 24 – er tilpasset stativet. Når man er ferdigkomponert er det mulig å fininnstille utsnittet med strammeskruer på kulehodene. Leica kulehode 38 (til venstre) har i tillegg to smarte funksjoner:
·         En tilteknapp som gjør at kulehodet låses og kun vippes vertikalt.
·         En 360-graders panoramafunksjon med en 15-graders "stoppeknapp" som gir en klikkelyd hver gang hodet har rotert 15 grader.
Stativet, kulehodene og en bæreveske i Cordura-stoff er tilgjengelig fra oktober 2013 hos utvalgte Leica-forhandlere.
Prisene er:
Kulehode 38: 3395 kr
Kulehode 24: 1995 kr
Stativ: 4495 kr
Cordura bæreveske: 645 kr
Hurtigplate for 24 og 38: 395 kr