Krimserien tar utgangspunktet i en legendarisk mafiabande fra Serbia som kaller seg «Pink Panthers». Under et ran av diamanter i Marseille blir en seks år gammel jente skutt og drept, noe som utløser en serie av uheldige hendelser for mange involverte. I hovedsak følger vi Milan (Goran Bogdan), bandelederen med en fortid i Beograd, Naomi (Samantha Morton), britisk forsikringsagent som tidligere har vært utplassert i Serbia som FN-soldat og Khalil (Tahar Rahim), en fransk-algerisk politimann som etterforsker tyveriet.
The Last Panthers er en imponerende serie med et internasjonalt tilsnitt. Johan Renck er dyktig og viser hva han har lært etter å ha regissert flere episoder av blant annet Bloodline og Breaking Bad. Den sterke regien med godt skuespill løfter inntrykket flere hakk. Estetikken er mørk og vakker med mange flotte bilder av det kriminelle Europa fra England, Serbia, Frankrike og Bulgaria. I tillegg presenteres serien med musikk fra selveste David Bowie og med en flott liten rolle av legendariske John Hurt.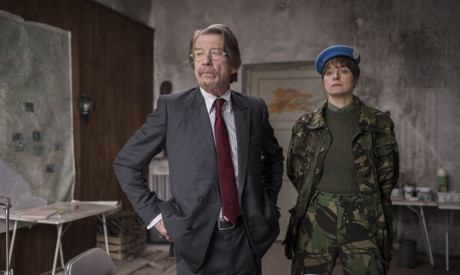 Totalt sett er dette en høyst anbefalt serie, men innledningsvis kan det bli litt for rolig. Det dvelende tempoet og gjentatte tilbakeblikk setter av og til tålmodigheten på prøve. Uansett er dette forlokkende underholdning og forhåpentligvis en serie som blir bedre etter hvert. Anmeldelsen er basert på sesongens to første episoder av totalt seks. Fire sterke stjerner.
Krimserien kan nå strømmes på HBO Nordic og det er lite å utsette på den audiovisuelle kvaliteten.