Det romantiske kostymedramaet fra slutten av 1800-tallat, av Thomas Hardy, har blitt filmatisert hele 7 ganger tidligere (inkludert TV-serier); i 2015-versjonen er det danske Thomas Vinterberg (Festen) som står for regien. At 3 av filmatiseringene er i form av TV-serie er ingen tilfeldighet, for her et det mye som skal presses inn på en to timers spillefilm.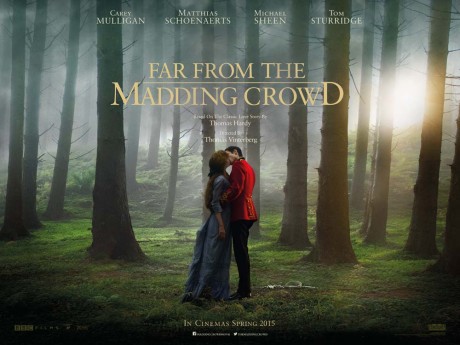 På 1870-tallet blir vi kjent med den egenrådige og standhaftige «feministen» Bathsheba Everdene (Carey Mulligan). På den engelske landsbygda lever hun under relativt enkel kår, men er like fullt en kvinne med ben i nesen, egen utdannelse og en klar formening om at hun skal klare seg uten en mann; i alle fall en mann som skal fortelle henne hva hun kan og ikke kan gjøre. Sauebonden Gabriel Oak (Matthias Schoenaerts) kurtiserer henne, men blir lattermildt avvist. Bedre går det selvsagt ikke når han havner i økonomisk uføre og må selge gården. Samtidig arver Frk. Everdene sin rike onkels storslagne gård. Kort fortalt blir hun fra nå av kurtisert av tre menn, Oak (som nå jobber for henne), hennes nabo, godseieren Boldwood (Michael Sheen) og den sleskete offiseren Troy (Tom Sturridge).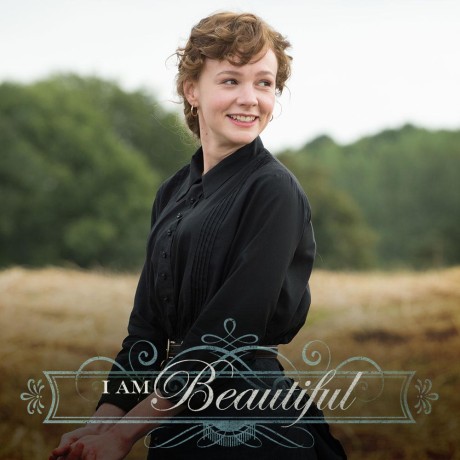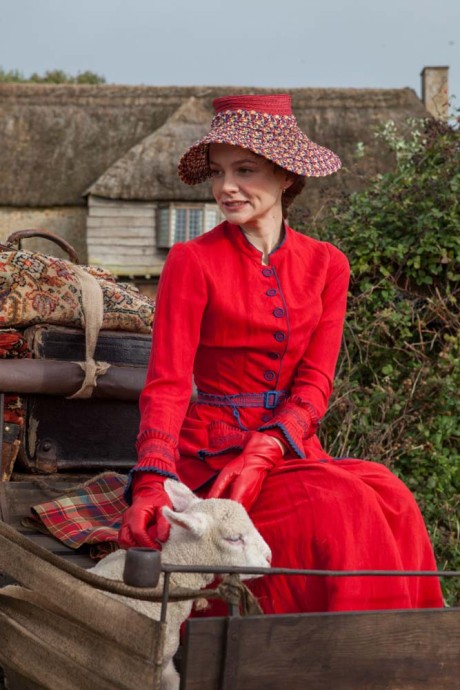 Filmen er tettpakket av nydelige landskapsbilder i full cinemascope, med hester i solnedgang og arbeidere på kornmarkene, det hele akkompagnert av passe svulstig musikk. Det som skiller Far From the Madding Crowd fra de sedvanlige kostymedramaene, er den sterke kvinnerollen til hovedpersonen, en rolle glimrende tolket av Carey Mulligan. Også Sheen og Schoenaerts gjør solide roller av de vidt forskjellige mennene, og det er en historie med interessante personer. Når det er sagt så har filmen to store akilleshæler. Den virker ofte alt for kort, historien får ikke tid til å utfolde seg og mange sekvenser virker avkortede der den dramaturgiske fremdriften skurrer. I tillegg er Everdenes overgang fra sterk og selvstendig kvinne til plutselig å bli «blåst av banen» av en sverdsvingende slyngel svært lite troverdig. Dog, alt i alt en helt ok romantisk dramastund med Fruen i armkroken. 3 solide stjerner.
Billedkvaliteten er jevnt over meget god, men svikter litt i de mørkeste scenene. Lydsporet (dts-MA 5.1) får fullt fortjent topp score! På bonusfronten får vi noen utelatte scener, intervju med Mulligan og en ok dokumentar om transformasjonen fra novelle til film.